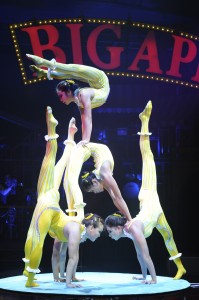 We finally went to see the Big Apple Circus last week before they finished up their run at Lincoln Center. Though I'd been to larger 3-ring circus performances, I love the intimacy of this single-ring show, where you can connect with the facial expressions of the clowns and marvel at the strength, talent, and skill of performers within 50 feet of your seat. They charmed me just as thoroughly as many of the younger viewers who sat nearby.
We also spent three evenings in November watching PBS's series Circus, a documentary that followed the Big Apple Circus through an entire season. Great stories and a wonderful picture of the lives of modern performing nomads. If you've ever wondered what it might be like to go on the road with an extreme act, now you can latch on  for a few evenings from the comfort of your living room.
The circus also provides an entertaining way to think about physics. PBS caught on with several educational science videos that they made to accompany the Circus series.
Newton's laws of motion were never so funny as when they're presented as part of a dog act. To illustrate Newton's 3rd Law, the dog and Luciano's butt exert equal and opposite forces.
Watch the full episode. See more Circus.
Check out the  treasure trove of internet information about both the history of the circus and circus science.
Image Credit: Bertrand Guay/Big Apple Circus